---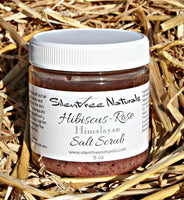 A luxurious salt scrub that exfoliates and moisturizes the skin, while the therapeutic properties detoxify, hydrate, tone, tighten and re-energize the body and mind.

Himalayan Pink Salt is a pure, hand-mined salt that is derived from ancient sea salt deposits, and is believed to be the purest form of salt available. It contains 84 natural-occurring minerals and trace elements that eliminates toxins, balances electrolytes, supports proper nutrient absorption, balances the body's pH and increases circulation.

Sunflower Oil is rich in vitamins A, C, D, E, and essential fatty acids which helps provide an emollient layer to prevent moisture loss and soften the look of fine lines and wrinkles. It protects against the elements, encourages skin regeneration and hydration, reduces inflammation, improves skin elasticity, evens skin tone and fights acne-causing bacteria to prevent blemishes.
Hibiscus Flower contains high AHA, anti-oxidant, and mucilage content. These properties give it intense exfoliant, hydration and pore-reducing properties. The citric acid content accelerates cell turnover and natural surfactants help cleanse the skin in a mild, soothing way. These properties may be beneficial for reversing free radical damage and helping to even out skin tone and texture.

Rose Petals are a natural astringent and exfoliator. They contain Vitamin C, which helps with the production of collagen and elastin, anti-oxidants which are important for fighting against free radicals, and have anti-bacterial and anti-inflammatory properties for fighting inflammation and redness. Roses help to fight acne, tighten pores, and soothe skin irritations.
Vitamin E Oil helps prevent signs of aging by protecting damage caused by free radicals. It keeps skin hydrated and may be beneficial for reducing the appearance of scars and stretch marks, as well as hyper-pigmentation issues, such as melasma, age spots and sun spots. It also fight wrinkles and has a firming effect on the skin.

Geranium Essential Oil stimulates circulation to the skin, promoting the regeneration of new skin cells and facilitating cell turnover. It also helps to tighten facial skin and minimize the appearance of fine lines, wrinkles, scars and uneven skin tones.

Cistus Essential Oil, also known as rock rose essential oil, has been used since ancient times for its ability to assist in wound healing. It's astringent properties help to tone the skin and reduce signs of aging, such as wrinkles and fine lines. It may also be beneficial for skin issues by helping to regulate the production of sebum and clear up breakouts.

Bergamot Essential Oil boosts the health of your skin. It tones and soothes skin irritations and may help to reduce or eliminate scars. Other beneficial properties include reducing stress and anxiety, antiseptic, antibacterial, anti-fungal, anti-inflammatory, and analgesic.

5 oz

Ingredients: Himalayan Pink Salt, Hibiscus-Rose-infused Sunflower Oil, Vitamin E Oil, Hibiscus and Rose Powder and the Essential Oils: Geranium, Cistus, Bergamot